5 Easy Ways to Keep a Clean Home (and Your Sanity) During Shedding Season

Owners of pets that shed know that shedding season can be quite the nightmare. Huge wads of hair seem to take over your home, and you spend most of your time looking like a Yeti.

Most pet owners would like to keep their house clean and tidy – even when it seems your pet is quickly turning bald. And most embarrassingly: don't you just hate it when your guests leave your home covered in nasty fluff?

A few simple tips will help you win the battle against pet hair:
1. Brush Your Pet  Daily to Remove Loose Hair

To keep pet hair from invading your home, you need to go to the source. By brushing your pet daily – or at least once a week – you can significantly reduce the amount of pet hair that gets wafted into the air every time your pet moves.
During shedding season, it might be a good idea to take the brushing session out on the porch to keep the loose hair outside. Not only is brushing a great way to minimize the amount of pet hair in your home, but it is also an excellent opportunity for some bonding time between you and your pet.
2. Daily Upkeep Vacuuming With a Handheld Vacuum

Having a compact and convenient cordless vacuum at hand is another simple way to keep that accumulating pet hair under control. A small handheld vacuum or a versatile stick vacuum is always charged and ready for a quick cleanup. And upkeep vacuuming is one of the most important ways you can survive the shedding season with a tidy home.
Spending just a few minutes every day on vacuuming the critical spots, you can make sure your home is always ready to welcome guests. Just make sure you find the right vacuum that can handle pet hair and it's gone!
3. Put Your Clothes Away and Minimize Clutter

Pet hair tends to find its way to piles of clothes and other sundry clutter. Make sure you fold the laundry and put away your used clothes so that they stay pet hair –free for the next time you use them.
Also, make sure you clear the clutter every day. It makes cleaning easier and cuts down the places where pet hair can hide.
4. Use Pet Blankets to Cover Beds and Furniture

Using pet blankets and pet beds protect your furniture and bed. We all know that pets love to curl up in the corner of the couch or on your bed. And especially if its shedding season, you will find your pet's favorite spot covered in hair.
Teaching your pet to have its own bed or to lay on top of a pet blanket makes cleaning much easier. Your clothes won't be covered in hair when you sit down, and cleaning up is as simple as popping the items in the washing machine and dryer once a week.
5. Have Lint Rollers Readily Available

A lint roller can be the pet owners best friend. No matter what you do, you will probably find pet hair on your clothes. Have a lint roller always at hand – one in your car, another in your purse or briefcase, a third in the hallway cabinet. Quickly run the roller through your clothes and even use them on your furniture for a quick tidying up before your guests arrive.
The shedding season can be challenging, but with just a few minutes every day, you can minimize the pet hair accumulating in every nook and cranny.
And there is one bonus tip as well!
If your life is hectic and you feel you just don't have the time to keep your home clean, you should consider getting a robotic vacuum. It can make a huge difference by keeping all floor areas pet hair–free – and doing so while you're at work or having a nice long walk with your dog.
The shedding season doesn't necessarily mean losing your sanity with the fluff taking over your home. Just stick to these tricks and get rid of that pet hair!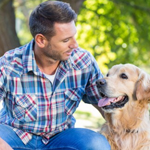 Matt Clayton

He lives in New York with his two golden retrievers: Ben and Jerry. Once he opened a carton of yogurt, and immediately there was a dog hair inside. That's when he decided to find the best ways to get rid of pet hair and start a website to share his knowledge. He has researched and reviewed hundreds of products that help you keep your home clean - even when you have furry roomies. He loves running and Italian pizza. He hates pigeons. And obviously, pet hair!