5 TRAVEL TIPS FOR PETS THIS HOLIDAY SEASON 



BY DOROTHY WILLS-RAFTERY
"To a dog, motoring isn't just a way of getting from here to there, it's also a thrill and an adventure."
~ Jon Winokur

This holiday season, if you are planning on packing your car and traveling over the river and through the woods, or city, to visit grandma or any relatives and friends, there's no better time than now to get that checklist ready for a
safe, clean, and comfortable drive
for both you and your beloved canine companions.
Before you begin your trip, is your dog used to traveling in the car?

If not, be sure to prep for your holiday journey by taking some smaller rides to get your dog ready for the trip ahead. And please, for safety's sake, never let your dog ride loose in a vehicle. Once your dog is road-ready, here are some other tips to help make it a smooth ride for all:


 



Check Up, Please!
Be sure to schedule a vet visit to be sure your dog is healthy for travel and up-to-date on vaccinations. While there, ask your vet for a copy of your dog's health records to have on hand, just in case an emergency trip to the vet is needed while away.
Who Am I?
Get or make your dog a Pet ID Card to carry in the vehicle's glove box and one for your wallet. The ID should include a photo of your pet, his/her name, breed, gender, specific markings, address, emergency contact phone number, vet info and phone number, and if there are any special medical requirements (i.e. Epileptic. Requires Anti-Seizure Medication).
Update Microchip & License Information

Be sure all proper tags are on your dog's collar, and that all information is current both with the microchip company, municipality, and vet office.


Check Your Gear
Give all your dogs' leashes, collars, and clips a safety check. Be sure they are not frayed, loose, or otherwise compromised.


Pack Your Pet's Bag!
Be sure to include food, bottled water, treats, bowls, medications, vitamins and supplements, health records, favorite toys, wipes, paw protection ointment or oil, poop bags, blankets, and yes, towels!
Why bring bottled water? According to the ASPCA, "Drinking water from an area he or she isn't used to could result in stomach discomfort."
Car K9 First Aid Kit
Create a portable K9 First Aid Kit to leave in the car and take on excursions. Some basic supplies include: bandages, first aid ointments, tweezers, latex gloves, alcohol swabs, bug repellent, instant cold packs, gauze, scissors, tape, tick remover tool, vet-approved allergy and itch relief medication, inflatable E-collar, pet thermometer, and soft cloths or paper towels.
Now that you are all packed up and ready to go, here are some tips for keeping your dog safe and comfortable for the ride:


Buckle Up!
The Center for Pet Safety encourages pet parents to select a quality crash-tested harness to protect your pet, in case an accident occurs. It is also advised that dogs not be tethered on a zipline or long extension type of product. There are some great dog seat belts to hook up to the harness.
Check out the 4Knines universal seat belt with a 360° swivel clasp that fits most vehicles, and the 4Knines sturdy, "no choke" harness with reflective straps that come in four sizes, both located in Accessories under the "View All Products" tab. 
Carrier Me Away!

When using a pet crate, the Center for Pet Safety (CPS) advises folks to NOT buckle up a pet's carrier with the seatbelt, "Unless the manufacturer provides you with crash test video to illustrate structural integrity. Using a seatbelt to secure a carrier can actually crush the carrier if you get into an accident. Instead – put the small carrier on the floor of the vehicle behind the front passenger or driver seat." For crate safety tips and more, check out CPS' Cargo Connection Advisory.
According to the ASPCA, "The crate should be large enough for your pet to stand, sit, lie down and turn around in. Secure your pet's crate so it will not slide or shift in the event of an abrupt stop. If you decide to forgo the crate, don't allow your pet to ride with his head outside the window, and always keep him in the back seat in a harness attached to a seat buckle."
The ASPCA also advises to label the dog's crate. "Mark the crate with the words 'LiveAnimal,' as well as with your name, cell phone and destination phone number, and a photo of your pet."
To keep your beloved dogs comfy in their crates, check out the 4Knines machine washable Plush Microfiber Top Dog Crate Mat/Travel Bed with special foam padding that has a waterproof bottom.

Once you get to your destination, will you be playing with your dog in the great outdoors? Whether you are hitting a tropical beach or trekking through mud or snow-covered trails, you will want to be sure to protect your vehicle from wet, dirty pawprints from your day of fun. 4Knines "Life-Proof" Seat Covers or CargoLiners protect vehicles from not only muddy and wet paws, but also claw marks, fur, drool, and possible accidents.

For all 4Knines products, visit us here! 
At the end of the day, when you and your pup are ready to hit the hay, be sure your dog's bed cover is ready with a Premium Waterproof Dog Bed Liner to help keep his sleeping spot clean. 4Knines liners are made up of a soft machine washable fabric that protects the bed insert from not only dirty, wet, and snowy paws, but also helps keep away that"wet dog smell" along with household allergens, dust mites, mold, and mildew. As your dog snuggles down for a long winter's nap, it will not only be a healthy bed, but a "quiet" one as well thanks to the special fabric.
Now that you've safely arrived at your holiday destination, isn't good to know your pup had a wonderful and safe road trip experience and your car's interior protected? And, since it is the season of giving, it is also good to know that 4Knines believes in giving back by donating "a percentage of every sale to animal advocacy groups," something they proudly proclaim they have been doing "since day one."  So not only will your dog travel in comfort while you can keep your vehicle clean with a 4Knines product, but you can feel good about the purchase helping other animals in need.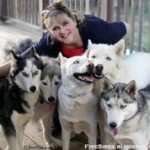 Dorothy Wills-Raftery
Dorothy Wills-Raftery is an award-winning photojournalist and author of EPIC Dog Tales: Heartfelt Stories About Amazing Dogs Living & Loving Life With Canine Epilepsy; the FiveSibes™ Tales children's books: What's Wrong With Gibson? Learning About K-9 Epilepsy and Getting Healthy With Harley: Learning About Health & Fitness; and Buddy, the Christmas Husky~Based On A True Holiday Miracle books (ArcticHouse Publishing), as well as the FiveSibes.com, an online encyclopedia for the Siberian Husky breed and Canine Epilepsy information, as well as her international award-winning FiveSibes blog, based on the lives of her five Siberian Huskies. Her work has also appeared in American Pet Magazine, Ruff Drafts, The Sled Dogger, and Hudson Valley Paw Print Magazine. Dorothy is the writer and host of "The Sibe Vibe" Dog Works Radio show.
Dorothy is a 9-time Dog Writers of America Association "Excellence" nominee, winning the prestigious Maxwell Medallion in 2017 and 2016 for her writing, photography, and design. Her book EPIC Dog Tales: Heartfelt Stories About Amazing Dogs Living & Loving Life With Canine Epilepsy received the 2018 Independent Press Award for "Excellence" in the Reference Book category and 2017 NYC Big Book Award for "Excellence" in the Animal/Pet book category. Dorothy was also named "Best Author" in 2015 & 2016 by Hudson Valley Magazine and all four books named "Best in Print" by American Pet Magazine, An official International Purple Day® for Epilepsy Ambassador since 2012 and a volunteer case manager for The Wally Foundation-Canine Epilepsy, Dorothy is the creator of the FiveSibes #LiveGibStrong K-9 Epilepsy Awareness campaign and partnered with The Anita Kaufmann Foundation for #Paws4Purple Project, both inspired by her own epileptic Husky, Gibson. In addition to her Siberian Huskies, Dorothy shares her home­ with her husband, daughter, son-in-law, and grandson. You can follow Dorothy and her FiveSibes on Facebook at FiveSibes: Siberian Husky K9 News & Reviews, on Google + , Twitter, and Instagram(@FiveSibesMom).