August 2022 Charity Spotlight: Lucky Puppy Rescue
Incorporated in 2008, Lucky Puppy Rescue was formed by Teri Mattson in an effort to change the luck of rescue dogs forever. By working with the community, partner shelters, and rescue groups, Lucky Puppy Rescue restores the health of the lucky dogs that come their way.
They tend to each dog's individual needs with veterinary care, and they help to prevent further overpopulation by spaying and neutering the dogs in their care.
Located on a 125-acre family farm in Bonifay, Florida, Lucky Puppy Rescue welcomes each new rescue into clean, secure kennel areas before introducing them to the other dogs in their care. Each day begins with exercise - a morning walk through woods and pasture trails followed by a splash and swim in the pond when weather permits. Before dinner, there is typically another long walk around the farm to finish the day. During these moments, founder Teri Mattson often feels like the "Lucky" one at the rescue.
The unique setting of Lucky Puppy Rescue helps to address each dog's unique emotional needs while providing them with a pack family to help socialize them. By meeting the physical, emotional, medical, and social needs of rescued dogs, Lucky Puppy Rescue helps prepare them for transfer to a foster family or for adoption into a suitable family as well-adjusted, much-loved pets!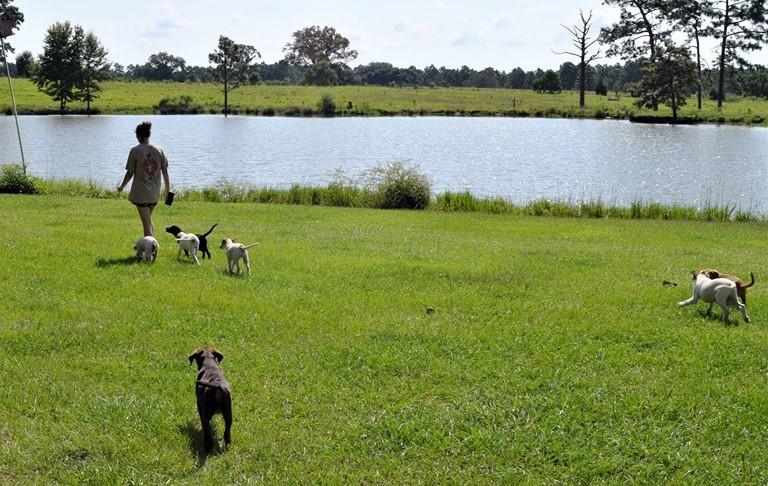 When foster families open their hearts and homes to a rescue dog from Lucky Puppy Rescue, they ultimately help save two lives—the life of the dog they are fostering and the life of the dog. Fosters save the life of the rescue dog they welcome into their home while also opening a spot for another lucky dog to be taken into the program. Fosters are needed for dogs of every size, type, age and activity level.
Through 4Knines' Monthly Spotlight articles, we try to shine a light on the work of animal advocacy groups across the country. We are proud to recognize the efforts of Lucky Puppy Rescue and hope you will consider supporting their mission by serving as a foster, by making a one-time or monthly donation, or by purchasing merchandise from the Lucky Puppy store.