Barking About Canine Epilepsy
During November's Epilepsy Awareness Month (NEAM)
By Dorothy Wills-Raftery
"Animals do not have a voice, so you'll never stop hearing mine."
- Unknown
The Epilepsy Foundation has recognized November as National Epilepsy Awareness Month (NEAM) since 1969. "Much is still misunderstood about this brain disorder," states the Epilepsy Foundation. "NEAM is an entire month dedicated to uplifting individuals living with the epilepsies and educating the public on what it means to experience seizures."


Along with the Epilepsy Foundation's reported 3.4 million people and their families who are affected by Epilepsy, dogs can also experience seizures and be diagnosed with Canine Epilepsy.
"Epilepsy is the most common chronic neurological disorder in veterinary medicine, and is estimated to affect up to 1% of dogs and 2% of cats in the general population," states Karen Muñana, DVM, MS, Diplomate ACVIM (Neurology), Professor of Neurology, Companion Animal Epilepsy Research Lab at the North Carolina State University College of Veterinarian Medicine, and member of the International Veterinary Epilepsy Task Force.
When a dog has a seizure, it's a frightening thing to watch. As difficult as it is, try to remain calm, and be there for your dog. Know you are not alone—there are many reputable resources and tips available nowadays to help guide you through this journey with your furry best friend. The good news is that with some special care and a vet treatment plan, dogs with Epilepsy can, and do, live full, happy lives enjoying the same activities non-Epis can do, from working as a trained Therapy Dog, to hiking, dock diving, dog sledding, urban mushing, skijoring, bikejoring, showing, or just snuggling up on the couch!
What is Canine Epilepsy?
According to Dr. Muñana, "The term Epilepsy is used to describe recurrent seizures that arise due to an abnormality in the brain. The most common cause for recurrent seizures in dogs is idiopathic epilepsy, and many breeds of dogs are genetically predisposed to this disorder." 
A diagnosis of idiopathic epilepsy simply means that after conducting tests and bloodwork on your dog, no known cause can be determined. While at first this can be a shock, it does not mean bad news as the test results were negative for underlying illness or injury.
Can Canine Epilepsy Be Treated?
The optimal goal is to try to manage the seizures. "Epilepsy is the most common medical neurologic disease in dogs," states the American Kennel Club Canine Health Foundation (AKC CHF), a nonprofit organization that is "committed to advancing the health of all dogs." The AKC CHF notes, "Despite appropriate treatment, it is estimated that 30% of affected dogs continue to have seizures, and many experience adverse effects from anti-seizure medications."
While there is no known "cure" for Canine Epilepsy, it is typically treated with specifically timed vet prescribed anti-epileptic drugs (AEDs), diet, nutrition, holistic therapies, and environmental cautions that can go a long way in helping manage seizures. The key is to find a veterinarian who is an expert in Canine Epilepsy and seizures in dogs who you trust and can easily talk with to plan the best possible course of care and treatment for your Epi-dog.
What Triggers a Seizure in Dogs?
So many things! The list of possible triggers or causes is staggering. Also, it's important to keep in mind that if a dog has a seizure, it does not necessarily mean a diagnosis of Canine Epilepsy. Regardless, if your dog has a seizure, call the vet immediately! While Canine Epilepsy can be deemed "idiopathic" or no known cause, a good tip is to try and rule out any possible causes/triggers, starting with a vet work-up to rule out any illness or injury.
*Below are some, but not limited to, top triggers for seizures in dogs:
Illness

Injury

Brain Tumor

Genetics

Foods

Food/Treat Additives (gluten, rosemary, preservatives, colors)

Medicinal Side Effect

Vaccine Side Effect

Thyroid Imbalance

Hypoglycemia

Ingested, Inhaled, or Applied Toxins (including rawhides, flea and tick repellents, scented candles, room fresheners, perfumes, certain essential oils such as Rosemary, Fennel, Sage, Eucalyptus, Spike Lavender**, Tea Tree Oil, Hyssop, Wormwood, and Camphor)

Environmental Toxins (pesticides, herbicides, automotive fluids, polluted water sources, etc.)

Stress

Overheating

Weather, Storms, and Atmospheric Changes

Lunar Phases, Solar Flares, and Eclipses

Flashing, Television, and Strobe Lights

Fireworks
Note: **Spike Lavender is not to be confused with traditional Lavender. Traditional Lavender (NOT Spike) can have a calming, relaxing effect. As always, check with your vet before using Lavender or any essential oils.
*Source: FiveSibes #LiveGibStrong Online K-9 Epilepsy Resource Library
First Aid for Dogs With Seizures
First and utmost, remain calm. Move other pets to another room. Be sure the area is clear and safe from anything that could fall on your dog while seizing. Keep your hands away from a seizing dog's mouth. Stay with your dog and talk softly and reassuringly, and gently pet your dog's side. Time the seizure and video tape, if possible to show your vet. Keep them cool with wet towels, cold packs, cooler collars, a cooler water bed, and a fan. Be prepared to transport your dog to the vet or ER clinic. When they come out of their seizure, the dog can experience temporary blindness, so keep them safe and away from stairs, electrical cords, etc. Give them a few sips of water, a little natural vanilla ice cream (or corn syrup, honey) to help raise their blood sugar followed by a few bites of protein (chicken, cheese, cottage cheese, yogurt, etc.), and call your veterinarian.
In this VetVine video, Dr. Muñana explains why a seizure lasting more than five minutes is alarming, and what owners may be instructed to do at home until they can reach the veterinary ER. 
Have an Epi First Aid Kit at the Ready
Make a First Aid Kit for your Epi-dog—one for leaving at home and a travel size version to take along with you on road trips, vacations, walks, and hikes. While you hope you don't need to use it, it's always best to be prepared. Besides the standard items in a dog's First Aid Kit, for Epi-dogs, you should also include prescribed anti-seizure medications, emergency rescue protocol, instant cool packs, thermometer, pheromone spray, Rescue Remedy®, pet towel, bottles of water, hand-held fan, your dog's seizure journal (unless you are using a digital one), a copy of your Epi-dog's vet records (in case you are away with your dog or wind up at the emergency hospital), and emergency phone numbers of vet, neurologist, emergency vet hospital, a family member or friend to assist if needed, etc., and access to a dog ramp and/or cover or blanket to move your dog if need be.
When a dog goes into a seizure, his/her body temperature can rise to dangerous levels and prolonged exposure to high temps can pose a real health danger to your dog, possibly even cause brain damage. Cooling a dog during and after a seizure with cold packs can lower the dog's body temperature, but you may ask:
Where do you put the packs? 

How long do I apply them? 

Do I need to wrap the cool pack in a towel? 

Will the cooling down cause my dog to go into shock? 
You can check out the answer to all these questions, by reading a previous 4Knines post for the #FiveSibes #LiveGibStrong #Paws4Purple infographic poster Cooling Down an Epi-Dog: Where Do I Put Cold Packs post.
30 Days of Canine Epilepsy Tips for NEAM:
Reliable K9 Epilepsy Sources, Information, Clinical Trials, Tips, Networks & More…
Did You Know?
One of 4Knines heavy duty, easy-to-clean vehicle seat covers or bed liners is a must-have for muddy and wet pawprints, and it's also helpful if you have a dog who has seizures for easy clean-up afterwards. 4Knines seat covers are designed to provide unbeatable protection against the messes and mishaps that come with active families and furry friends.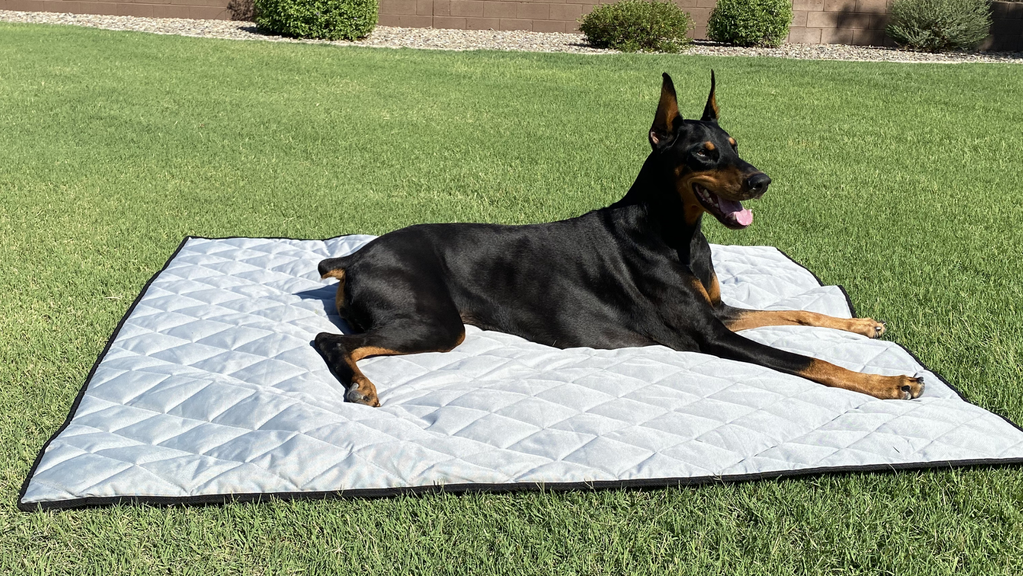 Another must-have is a 4Knines waterproof machine-washable dog blanket. This blanket serves multi-purposes, not only as a blanket for your dog's comfort and to protect your furniture, but it can also become a makeshift "stretcher" in case of an emergency if your dog needs to be transported to the vet or ER clinic.
"This is such an amazing product! It withstands any type of mess and dog. It holds up amazingly and if water is spilled on it, it simply rolls off. I cannot recommend this product enough. We give it all four paws up!"
- Verified Customer Rebecca K.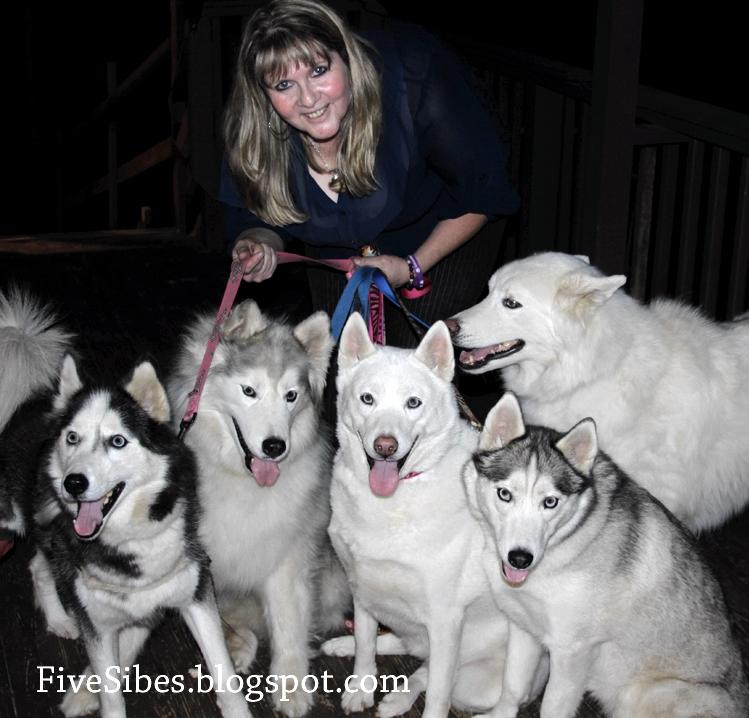 Dorothy Wills-Raftery is an award-winning photojournalist and author. Her canine books include EPIC Dog Tales: Heartfelt Stories About Amazing Dogs Living & Loving Life With Canine Epilepsy; the FiveSibes™ Tales children's books: What's Wrong With Gibson? Learning About K-9 Epilepsy and Getting Healthy With Harley; and Buddy, the Christmas Husky~Based On A True Holiday Miracle (ArcticHouse Publishing). Her internationally top blogsite is FiveSibes™ , based on her five Siberian Huskies, and includes an online encyclopedia for the Siberian Husky breed. 
Her work has also appeared in Chicken Soup for the Soul & Rosie the Riveter book series, Woman's World Magazine, AmericanPet Magazine, American Dog Media, Ruff Drafts, The Sled Dogger, and Hudson Valley Paw Print Magazine. Dorothy has been awarded the prestigious Maxwell Medallion by the Dog Writers of America Association for "Excellence" for her writing, photography, and fiction. Her book EPIc Dog Tales: Heartfelt Stories About Amazing Dogs Living & Loving Life With Canine Epilepsy received the Independent Press Award for "Excellence" in the Reference Book category and the NYC Big Book Award for "Excellence" in the Animal/Pet book category. She was named "Best Author" by Hudson Valley Magazine and all four of her books were named "Best in Print" by AmericanPet Magazine.
An official International Purple Day® for (K9) Epilepsy Ambassador since 2012 and a volunteer case manager for The Wally Foundation-Canine Epilepsy, Dorothy partnered with the nonprofit Purple Day® Every Day presented by The Anita Kaufmann Foundation for her #Paws4Purple initiative, and she created the #FiveSibes #LiveGibStrong K9 Epilepsy Online Resource Library—all inspired by her epileptic Siberian Husky, Gibson, in order to help other Epi-dog families find accurate information to help their Epi-dogs.
You can follow Dorothy and her FiveSibes stories on the FiveSibes™ blog and on Facebook at FiveSibes: Siberian Husky K9 News & Reviews, and on Twitter and Instagram (@FiveSibesMom).