CARING AND ADVOCATING FOR A SENIOR PET 

BY DOROTHY WILLS-RAFTERY
As the proud dog mom of five Siberian Huskies that over the past 15 years all reached various ages of being a senior, the close bond that develops with our beloved canine companions is a cherished one. While their gait may be slower in their golden years, their loyalty and enjoyment to be with their humans never slows down! 
What is one of the most important things a caregiver of a senior dog, or any senior pet, can do to ensure their beloved companion stays healthy? 
Lisa Hindson, DVM, founder of Hometown Mobile Veterinary Practice in Queensbury, NY, addresses this question. "Most pet owners would agree that what they want the most for their aging companion is for them to be as physically and mentally healthy and as comfortable as possible in their 'golden years.' To better understand the aging process in our pets, it may be helpful to consider the physical and mental changes that may happen to a human as they age and realize that our pets often experience similar changes."
"One of the obvious differences is that our pets cannot tell us how they are feeling and what their needs might be, at least not with 'words,'" states Dr. Hindson. "As our pets' advocates, we are responsible for observing their behaviors, interpreting the meaning, and then taking action on their behalf."
Veterinary Care and the Senior Pet
Naturally, as our pets grow older, it is especially important to continue their check-ups as a preventative measure. "More frequent veterinary care will address the changing medical needs of your pet," explains Dr. Hindson. 
"Examinations and routine laboratory tests can identify the onset of diseases such as over or under active thyroid illness, kidney or liver disease, diabetes, and arthritis or neurologic decline. Working with your veterinarian you can formulate a plan to address any disease or illness that might include medications, supplements, dietary modifications, and any exercise/activity limitations or therapies."
Changes in a Senior Dog
Your beloved dog just celebrated a big birthday, but along with the party and doggy cake comes some changes. Older dogs may develop vision and hearing loss, problems with mobility, and increased anxiety. "These physical changes often result in new behaviors that are challenging for an owner to understand," explains Dr. Hindson. "It is here where it may be necessary to modify your pet's environment to improve their quality of living."
Mobility issues can be one of the most disturbing changes seen in older dogs. Dr. Hindson explains that this can occur for a multitude of reason including, arthritis, tendon and ligament soreness and neurologic and/or nerve degeneration. "These changes become clear when a pet can no longer easily navigate stairs, has trouble getting up from laying down, can't jump up onto furniture or into the vehicle, won't walk on slippery floors, can't stand to eat or drink, won't lay in their favorite bed, and generally seems more anxious."
As a mobile or "housecall" veterinarian, Dr. Hindson has "the privilege of being able to observe many of my patients in their home environments. When considering elderly and senior pets, I have found that apart from regular vet care, one of the most important things for owners to understand is what their senior pet needs to be as comfortable as possible in their own home."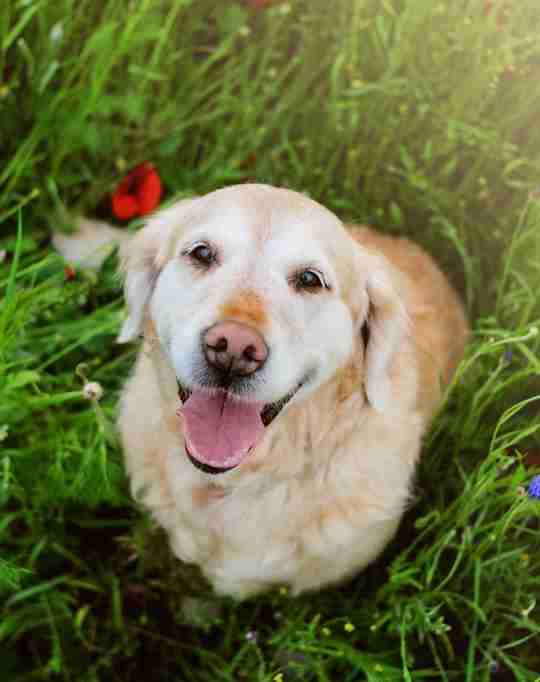 Ways to Help Keep Our Senior Dogs Comfortable:
Here are some of Dr. Hindson's helpful suggestions to provide comfort for aging pets in their own home:
B

e sure stairways have secure, non-slip footing

(indoor/outdoor carpeting) and are well lighted.

Consider installing ramps over stairs

(where practical) and providing steps to access furniture and vehicles.

Use a harness or a long towel beneath their belly

, to help them get up from lying down, while using stairs, or positioning to urinate and defecate.

Place non-slip, rubber backed carpeted runners

and/or rugs over tile, linoleum, and hard wood floors.

Elevate food and water dishes

to a height appropriate for your pet so they can stand comfortably to eat and drink. Be sure the footing below the entire feeding area is non-slip.

Consider a more supportive or firm bed, such as an orthopedic mattress,

as many older pets have trouble moving their legs in a thick, soft bed and may get twisted or trip and fall.

Keep providing some sort of "low impact" exercise,

and avoid extreme heat or cold temperatures.

In winter, consider clearing pathways

though deep snow and treat ice with pet friendly ice melt.
Senior Pets in Need

According to the ASPCA, "It is a sad fact that senior pets are often the last to be adopted from shelters, putting them at an increased risk for euthanasia. When you adopt a senior pet, you're not only welcoming a lifetime of love into your home, you're also saving a precious life."
Why Adopt a Senior Dog? 
Travis and Lisa Poper of Animal Town Sanctuary, Cave Creek, AZ, know senior dogs well. Their mission is to "rescue unadoptable Siberian Huskies and Nordic breeds and let them live out the rest of their natural lives in a stress free and natural environment at Animal Town. All of our residents are seniors rescued from death row shelters." 
At Animal Town Sanctuary, the Popers give their senior dogs a lifetime of love and care, including end-of-life care, in a welcoming environment where there are no cages. They also provide educational information to the public, including holistic treatment care. 
Notes Lisa,
"We love our seniors mostly because what you see is what you get. They have matured personalities, which often includes the benefit of being potty trained. They require less time and attention, yet they are fully appreciative of extra time and belly rubs."
Interested in adopting a senior dog, but not sure where to go? Visit The Grey Muzzle Organization!
If you looking to network with other senior dog parents, check out the Senior Dog Care Club Facebook Group.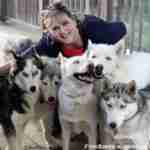 Dorothy Wills-Raftery is an award-winning photojournalist and author of EPIC Dog Tales: Heartfelt Stories About Amazing Dogs Living & Loving Life With Canine Epilepsy; the FiveSibes™ Tales children's books: What's Wrong With Gibson? Learning About K-9 Epilepsy and Getting Healthy With Harley: Learning About Health & Fitness; and Buddy, the Christmas Husky~Based On A True Holiday Miracle books (ArcticHouse Publishing), as well as the FiveSibes.com, an online encyclopedia for the Siberian Husky breed and Canine Epilepsy information, as well as her international award-winning FiveSibes blog, based on the lives of her five Siberian Huskies. Her work has also appeared in AmericanPet Magazine, Ruff Drafts, The Sled Dogger, and Hudson Valley Paw Print Magazine. Dorothy is the writer and host of her award-winning "The Sibe Vibe" Dog Works Radio show.
Dorothy is an 11-time Dog Writers of America Association "Excellence" nominee, winning the prestigious Maxwell Medallion in 2019, 2017, and 2016 for her fiction, writing, photography & design. She was also awarded The Grey Muzzle Award by The Grey Muzzle Organization for "Excellence in writing/media of the plight of at-risk senior dogs" on her show "The Sibe Vibe" broadcasted on Dog Works Radio and iTunes. Her book EPIC Dog Tales: Heartfelt Stories About Amazing Dogs Living & Loving Life With Canine Epilepsy received the 2018 Independent Press Award for "Excellence" in the Reference Book category and 2017 NYC Big Book Award for "Excellence" in the Animal/Pet book category. Dorothy was also named "Best Author" in 2015 & 2016 by Hudson Valley Magazine and all four books named "Best in Print" by American Pet Magazine, An official International Purple Day® for Epilepsy Ambassador since 2012 and a volunteer case manager for The Wally Foundation-Canine Epilepsy, Dorothy is the creator of the #FiveSibes #LiveGibStrong K-9 Epilepsy Awareness campaign and partnered with The Anita Kaufmann Foundation for #Paws4Purple Project, both inspired by her own epileptic Husky, Gibson. In addition to her Siberian Huskies, Dorothy shares her home with her husband, daughter, son-in-law, grandson, and granddaughter. You can follow Dorothy and her FiveSibes on Facebook at FiveSibes: Siberian Husky K9 News & Reviews, on Twitter and Instagram (@FiveSibesMom).