November 2022 Charity Spotlight
Char-Wills German Shepherd Rescue
This month's 4Knines' Charity Spotlight was nominated by John, a happy 4Knines' customer who adopted two German Shepherd rescues from Char-Willis.
Having grown up in the 50's glued to every episode of Rin Tin Tin, John describes his first rescue dog, Shadow, as "the culmination (or beginning) of a lifelong desire to have a German Shepherd." After Shadow passed away, John adopted his current beloved rescue, Tank, from Char-Willis German Shepherd Rescue in 2015.
Char-Wills German Shepherd Rescue
is a breed-specific rescue nestled in the picturesque mountains of Schuylkill County, PA. This rescue consists of a growing group of volunteers and foster families with a mission to ensure rescued German Shepherds go to homes with experienced, knowledgeable owners who are committed to understanding the breed and providing the attention, exercise, and care needed so they can reach their true potential. ​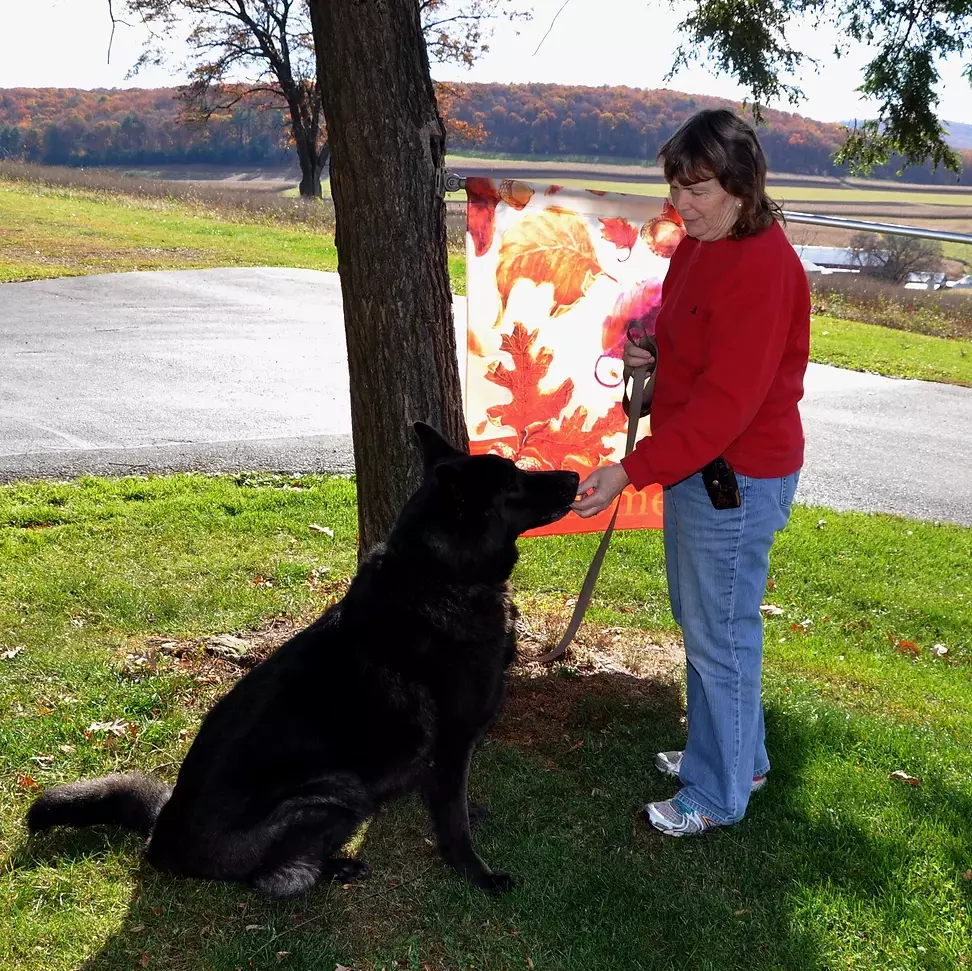 Diane Buhl, who founded Char-Wills in 1994, grew up in a family that loved dogs. Diane began working alongside her mother, Charlotte, at the age of eight. Charlotte was a 4-H leader and trainer who also bred and showed German Shepherds and Flat Coated Retrievers for over 40 years. Naturally, Diane learned how to train and raise dogs as well which led to a lifetime of working with animals.
For over thirty years, Diane has held positions ranging from kennel assistant to State Dog Warden to Humane Society Police Officer. Diane's deep love, understanding, and knowledge of the German Shepherd breed is the foundation upon which Char-Wills German Shepherd Rescue is built. She continues to educate the public while doing her part to save the breed she grew up with.
Char-Wills German Shepherd Rescue takes in all variations of German Shepherds from shelters throughout Pennsylvania and sometimes from other states near and far. If dogs require additional training or medical care, they are placed into foster homes to recover in a comfortable, loving environment. 
Adoptable German Shepherds stay in a beautiful, state-of-the-art kennel (donated by a generous benefactor) while awaiting new homes. Each of the 14 indoor kennels is designed to comfortably house a large shepherd and provide access to a secure outdoor area. This temperature-controlled facility features south-facing windows to allow for natural light and has a spacious office and meet & greet area. Dedicated volunteers care for the dogs' daily needs and provide enrichment and exercise. 
Owner-surrendered dogs are also accepted at Char Wills German Shepherd Rescue. When families are no longer able to care for them, Char-Wills helps owners place their dogs in safe, loving homes with pre-screened adopters.
Volunteers enrich the lives of rescued shepherds, and Char Wills offers plenty of opportunities to help further their mission. They are always looking for volunteers to help in the following areas: 
Barking Attendants - to provide exercise and enrichment to dogs, transport dogs to the rescue facility, provide in-home foster for dogs recovering from surgery, assist visitors during meet & greets, and answer general questions

Administration - contact veterinary & personal references, conduct phone interviews with applicants, create & distribute quarterly newsletters

Outreach - represent Char-Wills Rescue in the community at various events, promote the rescue, and answer questions

Land & Facilities - help with upkeep including clean-up, facility improvement projects, repairs, and overall maintenance.
4Knines is honored to share the mission of Char-Wills German Shepherd Rescue. We hope you will join us in supporting Diane's life work by making a donation, volunteering, or participating in one of their fundraisers.