Road Trippin' With Your Dog
By Dorothy Wills-Raftery
Now that the holidays have passed, are you looking for something to do with your furry best friend until the longer lighter days of spring and summer come? How about some road trippin' adventures? Any time of the year is a good time for a drive, and I think dogs love car rides even more than us humans! But before you load up your dogs, here's some tips to make that trip a successful one:
1. Are Your Dogs Travel Ready?
First up, be sure your dogs are healthy and fit to travel. Also be sure your dogs' vaccines, microchips, and tags are all up to date. A call to your vet and/or having a vet checkup is advised before heading out and hitting the road.
2. Where to? Is it Dog-Friendly?
Pre-trip planning includes reviewing the location you want to visit. While there, where is it you'd like to go? Whether you are planning on hitting the hiking trails, visiting eateries, going shopping, or just hiding out in a zen B&B or hotel/motel room, always do your research and be sure the places welcome dogs. A few great online sites to check out for dog-friendly travel destinations are:
3. Safety Check: Is Your Vehicle Dog-Ready to Go?
After giving your vehicle a pre-trip inspection, also be sure it is dog ready. Do you have a travel bed? A safety crate and/or seat belt harness? How about a car seat cover? If your dog is new to car travel, do a practice run to be sure there are no issues, such as anxiety or car sickness, and if so, address it with your vet beforehand. Another great idea is to create Pet ID Cards that include their photo, address, your cell phone number, vet contact info, and any distinguishing marks, special needs, and medications and keep the ID Cards in the glovebox along with your car papers.
4. Put a Pin in That Map!
When you are ready to go, check your map for routes along the way to your destination to see where the nearest top-rated veterinarian and ER facilities, as well as dog-friendly hotels/motels, restaurants, and rest stops so they can stretch their legs and have potty breaks.
5. Go Ahead and Pack That Suitcase!
Be sure to pack a bag for your dog! Key items to include are a Pet First Aid kit (and any medications and supplements they need), your dog's medical/vaccine records, dog food, treats, portable dishes, water*, favorite toys and puzzles, bed, poop bags, leash, and harness. If you use a traditional camera, don't forget to bring it. And don't forget your smart phone charger so it is always at the ready in case of an emergency and for some great pictures if that's what you use for photos and videos!
*Depending on where you are going, sometimes a change in water can cause GI upset. Best to bring water from home or pack bottled water.
Keep in mind to keep your car on the cool side for your dog, and please, never leave your dog in a warm car, even for "just a few minutes." Cars heat up fast and can cause a serious health issue and can be fatal for your beloved dog. 
For that trip, check out a great choice of seat belts, safety harnesses, crate mats & travel beds, seat covers, and dog beds, check out some great 4Knines items!
Now that you and your dog are all ready for that road trip, have fun! There's nothing more joyful than spending some quality adventure time with your dog. And, remember, your special times spent today will be your precious memories tomorrow.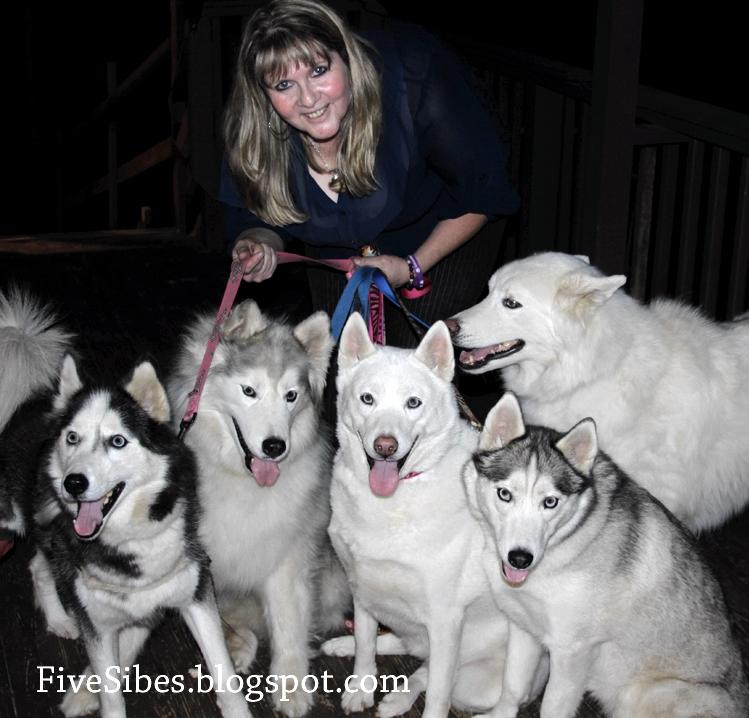 Dorothy Wills-Raftery is an award-winning photojournalist and author. Her canine books include EPIC Dog Tales: Heartfelt Stories About Amazing Dogs Living & Loving Life With Canine Epilepsy; the FiveSibes™ Tales children's books: What's Wrong With Gibson? Learning About K-9 Epilepsy and Getting Healthy With Harley; and Buddy, the Christmas Husky~Based On A True Holiday Miracle (ArcticHouse Publishing). Her internationally top blogsite is FiveSibes™ , based on her five Siberian Huskies, and includes an online encyclopedia for the Siberian Husky breed. 
Her work has also appeared in Chicken Soup for the Soul & Rosie the Riveter book series, Woman's World Magazine, AmericanPet Magazine, American Dog Media, Ruff Drafts, The Sled Dogger, and Hudson Valley Paw Print Magazine. Dorothy has been awarded the prestigious Maxwell Medallion by the Dog Writers of America Association for "Excellence" for her writing, photography, and fiction. Her book EPIc Dog Tales: Heartfelt Stories About Amazing Dogs Living & Loving Life With Canine Epilepsy received the Independent Press Award for "Excellence" in the Reference Book category and the NYC Big Book Award for "Excellence" in the Animal/Pet book category. She was named "Best Author" by Hudson Valley Magazine and all four of her books were named "Best in Print" by AmericanPet Magazine.
An official International Purple Day® for (K9) Epilepsy Ambassador since 2012 and a volunteer case manager for The Wally Foundation-Canine Epilepsy, Dorothy partnered with the nonprofit Purple Day® Every Day presented by The Anita Kaufmann Foundation for her #Paws4Purple initiative, and she created the #FiveSibes #LiveGibStrong K9 Epilepsy Online Resource Library—all inspired by her epileptic Siberian Husky, Gibson, in order to help other Epi-dog families find accurate information to help their Epi-dogs.
You can follow Dorothy and her FiveSibes stories on the FiveSibes™ blog and on Facebook at FiveSibes: Siberian Husky K9 News & Reviews, and on Twitter and Instagram (@FiveSibesMom).