Senior Dogs Are Golden Treasures
By Dorothy Wills-Raftery
"Every white hair is one day of experience in being the very best friend you've ever had." 
- Jaymi Heimbuch
Whether you have shared your life with your furry best friend since it was a pup, or you welcomed one into your home at an older age, a senior dog is truly a golden gift.
When our dogs age, not only may their muzzles sprout gray hairs, but their activity levels and diets may change, as well as their physical and mental health. Thankfully, along with your veterinarian's guidance, there is so much we can do to help senior dogs live the best, healthiest, and longest life possible.
Games for Senior Dogs
Research shows games are a great way to give your dog mental stimulation, which helps promote or maintain cognitive function. Some fun things to do include something as simple as The Shell Game (a/k/a Cup Game), an excellent "nosework" activity where you hide a favorite treat under one of three cups, move the cups around, and let your dog sniff out the treat. Puzzles are also a great and fun brain game. You simply hide treats in the various cubbies and watch as your dog happily paws and sniffs his way through the puzzle to reveal the treats. 
Aids for Older Dogs
Sometimes as our dogs age, they need some extra assistance. Whether it is a lift harness to help take weight off of arthritic legs or adding throw rugs or toenail grippers to help prevent them from sliding on floors, to the use of a wheelchair or a doggy stroller, there are many helpful aids today to ensure your senior dog can still get around and enjoy daily activities. 
Why Adopt a Senior Dog?
Oh, my, for so many reasons! For starters, why not give a dog a loving home where they can live out their remaining days feeling loved, happy, and safe? Sadly, though, senior dogs are not the first dogs folks come into adopt. According to The Grey Muzzle Organization, "When senior dogs enter shelters, their future is uncertain. The adoption rate for senior dogs (7 years or older) is lower than that of all other ages combined: Just over 50% find new homes." 
Benefits of Adopting an Older Dog
Dogs are so devoted and give us their all—trust, love, companionship—they deserve nothing less in return. Some may find themselves homeless for many reasons, including the passing of their human or their human can no longer take care of them due their own illness or having to enter a nursing care facility. These dogs have spent their whole lives with their human best friend and suddenly find themselves lost and afraid, sometimes winding up in shelters or being euthanized simply because they have nowhere to go. To be able to step in and let that dog live out his/her golden years wrapped in love is such a gift, not only for the dog, but for the gift of joy it will fill your heart.
Things to Keep in Mind When Adopting an Older Dog
As with adding any dog to your family, when you decide to welcome a senior dog into your family and home, there are some important factors to consider and know BEFOREHAND.
Do you have the time to care for an older dog?
Are you prepared to take care of the dog if s/he has or develops a health issue, such as cognitive dysfunction, arthritis, cancer, seizures, blindness, renal issues, anxiety, etc.
Can you financially afford the care of a senior dog? This includes vet visit costs, medications, supplements, specific foods, items such as dog diapers, lift harness, crate/bed, and car seat liners, and special treatments such as cold laser therapy, acupuncture, water therapy, etc.
Will a senior dog fit in with your lifestyle? Keep in mind if you have an older dog, but have a busy, chaotic lifestyle that includes loudness, busyness, very young children, etc., that can cause an older displaced dog to have anxieties, can you adapt it to be suited for a senior dog? And the flip is, if this is your lifestyle, would an older dog actually fit in and keep up with your pace? Or, if you yourself are a senior, are you able to care for a senior dog? Go for walks, bend over to feed, groom, clean up after? 
It's also very important to not have unrealistic expectations when you first bring home your senior dog. Patience, love, reassurance, and creating a routine are keys to success. "It's possible your new old dog will come bounding in, jump on the couch, and settle in like he's lived there all his life…but don't be disappointed if that doesn't happen," notes Hindy Pearson, a dog trainer providing senior dog care support and author of Grey Paws and All: Helping You Care for Your Senior Dog website. "Your dog has just been uprooted from where he was living and brought into what he may see as a strange and scary environment. Give him time to adapt, and if you need help, contact a certified dog trainer that specializes in working with older dogs."
Did you know that calculating your dog's age is not just times seven? 
Check out the new calculator published in the Smithsonian Magazine HERE.
A great item for senior dog care includes having a protective car seat and/or bed cover to help protect from possible "accidents." Check out the line of waterproof and washable covers from 4Knines HERE. 4Knines is also committed to giving back to the animal community and they donate a percentage of each sale to animal advocacy groups.
Resources for Senior Dog Caregivers:
🐾 The Grey Muzzle Organization – A national organization dedicated specifically to advancing lifesaving efforts on behalf of senior dogs. They provide funding and resources to animal shelters and rescues groups across then nation.
🐾 Grey Matters Blog – A blog with expert articles on senior dog care, wellness, alternative treatments, end-of-life care, events, and webinars.
🐾FiveSibes™ The Sibe Vibe – "Caring for a Senior Dog" – a two-part award-winning show about caring for dogs in their senior years. Listen to Part I and Part II.
 🐾 Grey Paws and All – a website dedicated to senior dog car with Hindy Pearson. It features helpful articles on training, health, and pet loss. She also conducts Zoom sessions to help senior dog caregivers across the globe. 
🐾 Grey Paws and All Podcasts – A podcast where experts talk about health and wellness of senior dog care. 
🐾 Senior Dog Care Club Group on Facebook – This group shares tips, advice, and offers support for those sharing their life a senior dog. Note: You will need to request to join this group.
🐾 Caring for a Senior Dog – an online resource for parents of older dogs.
🐾 Navigating Your Dear Old Dog's Golden Years: Dr. Buzby's Ultimate Guide –Dr. Julie Buzby, a veterinarian with over 20 years of experience caring for older dogs, shares her advice on  helping senior dogs live the happiest, healthiest life possible.
🐾 Animal Town Sanctuary – A non-profit rescue organization specializing in senior and special needs dogs. The sanctuary is a permanent home with round-the clock care for the rescue dogs with a staff that is experienced in holistic cancer treatments, reverse osmosis water, specialized diets, natural foods, canine supplements, aroma and music therapy, and end-of-life care.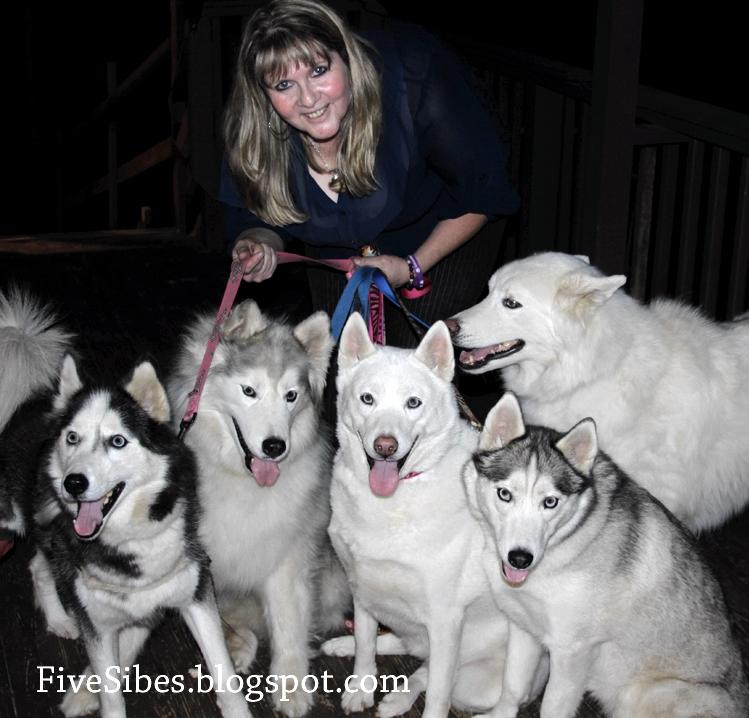 Dorothy Wills-Raftery is an award-winning photojournalist and author. Her canine books include EPIC Dog Tales: Heartfelt Stories About Amazing Dogs Living & Loving Life With Canine Epilepsy; the FiveSibes™ Tales children's books: What's Wrong With Gibson? Learning About K-9 Epilepsy and Getting Healthy With Harley; and Buddy, the Christmas Husky~Based On A True Holiday Miracle (ArcticHouse Publishing). Her internationally top blogsite is FiveSibes™ , based on her five Siberian Huskies, and includes an online encyclopedia for the Siberian Husky breed. 
Her work has also appeared in Chicken Soup for the Soul & Rosie the Riveter book series, Woman's World Magazine, AmericanPet Magazine, American Dog Media, Ruff Drafts, The Sled Dogger, and Hudson Valley Paw Print Magazine. Dorothy has been awarded the prestigious Maxwell Medallion by the Dog Writers of America Association for "Excellence" for her writing, photography, and fiction. Her book EPIc Dog Tales: Heartfelt Stories About Amazing Dogs Living & Loving Life With Canine Epilepsy received the Independent Press Award for "Excellence" in the Reference Book category and the NYC Big Book Award for "Excellence" in the Animal/Pet book category. She was named "Best Author" by Hudson Valley Magazine and all four of her books were named "Best in Print" by AmericanPet Magazine.
An official International Purple Day® for (K9) Epilepsy Ambassador since 2012 and a volunteer case manager for The Wally Foundation-Canine Epilepsy, Dorothy partnered with the nonprofit Purple Day® Every Day presented by The Anita Kaufmann Foundation for her #Paws4Purple initiative, and she created the #FiveSibes #LiveGibStrong K9 Epilepsy Online Resource Library—all inspired by her epileptic Siberian Husky, Gibson, in order to help other Epi-dog families find accurate information to help their Epi-dogs.
You can follow Dorothy and her FiveSibes stories on the FiveSibes™ blog and on Facebook at FiveSibes: Siberian Husky K9 News & Reviews, and on Twitter and Instagram (@FiveSibesMom).